Experience some of the best the Outer Banks inshore fishing has to offer in and around Oregon Inlet
Fishy Bizness OBX
FOR A HANDS ON !
OUTER BANKS FISHING CHARTER
3/4 / 6 / or 8 hour charters and all trips are just your friends or family on board.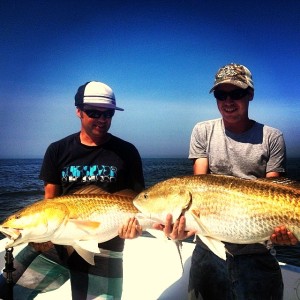 Looking for a day of Adventure Fishing or just a half day of Family Fun with the kids on my Kids Adventure trips in and around the Outer Banks of NC? Then come join me Capt. Frank Riddick your Guide on board The Fishy Bizness. I will take you stalking Cobia or trolling for Bluesfish, Stripers, and Mackeral in the Atlantic Ocean & Oregon Inlet or throw top water lures for Speckled Trout and Red Drum in the back country. Maybe jigging for Flounder or Wreck fishing for Trigger Fish or just looking at nature such as Dolphin or Ospray on an evening cruise. Whatever else you and your friends or family may want to do in the ocean or inshore calm waters of the Outer Banks aka OBX
MY FISHING TRIPS ARE VERY FLEXABLE AND I WILL GIVE THE SAME EFFORT RATHER WE ARE ON A TROPHY FISHING ADVENTURE OR FAMILY WITH KIDS TRIP
I will be your captain on your fishing adventure. I'm fully licensed by the US Coast Guard. I have been taking guests charter fishing since 1995 and fishing these waters all my life. As your captain and guide on your adventure in pursuit of a trophy fish of a life time or a memorable family fishing trip or clamming. 1/2 day – 3/4 day or full day fishing charters will receive the same effort and attention from me.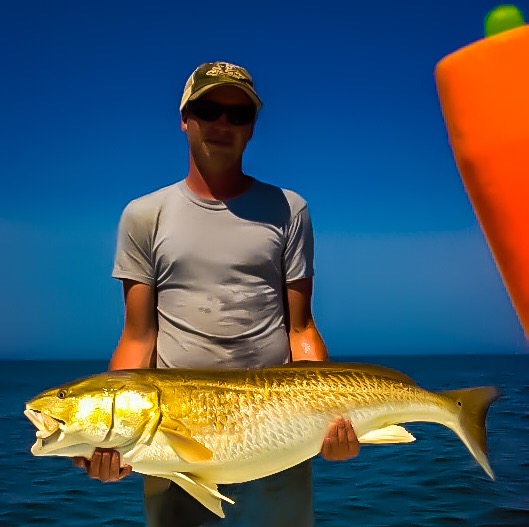 Red Drum, Speckle Trout, Cobia, Flounder, and Shark.!
You will learn all the techniques and hot spots while catching these and many other game fish. You will very likely see amazing wildlife while we are on the water possibly sea turtles, dolphins, pelicans, and many others creatures.
All Bait, License and Tackle Provide
CALL FOR DETAILS
252 207 8864
What is Outer Banks Near Shore Fishing
Refers to fishing the waters of the Atlantic Ocean that reside near shore or a short distance from the beach – less than 8 miles but usually 300 yards to 3 miles. The first few miles of warm, fertile waters of the near shore are some of the most bountiful in all of the Outer Banks. Fish of all shapes and sizes call these waters home. near shore OBX fishing trips are not deep sea fishing trips, but don't for a moment think this has any impact on the quality or quantity of fish caught. near shore Fishing produces some of the most active and consistent fishing that the OBX has to offer.
Catches of over a dozen different species ranging from King and Spanish Mackerel, Cobia, Red Drum, Amberjack, Stripers ,Blues, and yes, an assorted variety of Sharks (Bulls, Tigers, Spinners and Blacktips) are not unusual. Many of these fish average over 20 lbs and can run in excess of hundreds of lbs as in the case of the mighty Sharks. Bait selection will vary widely to include both live and artificial baits used in a variety of ways.
A truly dynamic and exciting way to target fish while covering some diverse fishing area.
When fishing the near shore wrecks and sloughs around Oregon Inlet , we will typically cast or troll live and artifical baits above or bottom drop baits to the wreck and/or reef floor for Cobia, Shark, and Amberjack and many more species frequent these marine habitats and can also be coerced into swimming up to the surface right next to the boat and take a bait. Nothing could be more exciting than to see a school of reef dwelling fish swim up and eat your offering and blaze your reel's drag on its way back down to its home on the reef floor! From live baiting for speedy pelagic, to playing tug-o-war with a Shark, or Reef Donkeys, there is something lurking on or above the near shore wrecks and reefs.
The availability of near shore species is all about the seasons, water temperature, and fish migrations. Feel free to contact Capt. Frank to find out what species are usually available during your planned travel time, or to find out what the best time is to target the species you are most interested in.
What is Oregon Inlet and Inshore fishing
Refers to the creeks, estuaries, salt marshes and tributaries and also where the Pamlico Sound meets the Atlantic Ocean and also the Oregon Inlet bridge crosses over the inlet and offers a wide array of angling action. It attracts a lot of fish like sheepshead, red drum, trigger fish, gray trout, and many others. Bull Red Drum, Speckled Trout, Flounder and Striped Bass are some of the fish to pursue the inshore water of the Pamlico, Albemarle and Croatan Sounds. Live bait, Artificial, and Fly Fishing is available depending on how you and your party wish to Angle. The boats tower also becomes important for spoting Red Drum on the grass flats. The weather and tides play a major role in fishing conditions but there is always somewhere to catch fish even on windy days Red Drum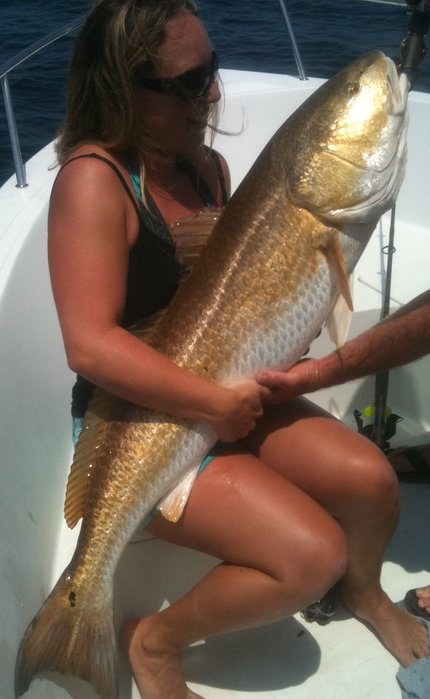 They grow to be quite large and can only be kept inside the smaller slot limits. These have characteristic spots on their tail and sometimes many more along the sides of their red – copper brown scales. A fierce fighter, it doesn't take long to realize you've hooked one. Available spring summer and fall , Red Drum are one of the most popular species to target.are another variety of fish that are available and can grow to be several feet long.
SPECKLED TROUT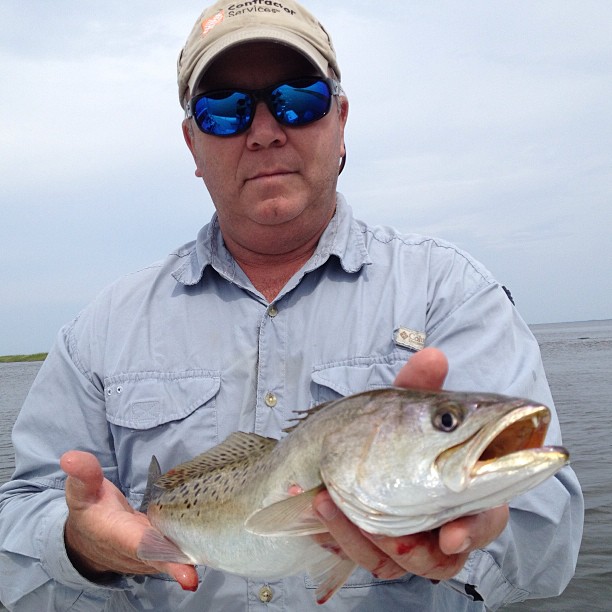 are found in rivers, estuaries and shallow coastal waters over sandy bottoms. It is often associated with seagrass beds, as well as salt marshes and tidal pools of high salinity. Anglers catch fish on light to medium spinning tackle using a variety of artificial bait. Popular baits include shrimp and minnows suspended from a float. Artificially scented lures are also popular.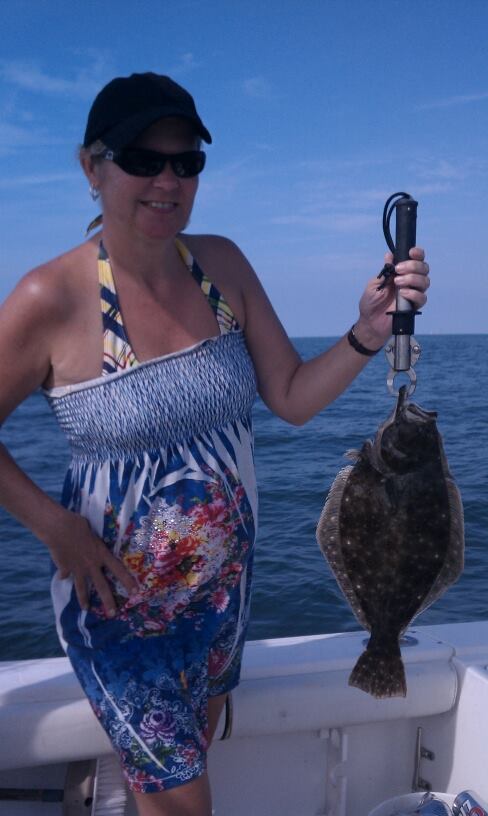 Flounder / Summer and Southern
Anglers catch flounder using live fish, such as finger mullet, on a single-hooked rig and artificial lures. flounder are caught under bridges and docks and in the nearshore ocean. Fishermen plug for flounder with jigs along soundside marshes. They also catch flounder at night with gigs and spears from boats equipped with lights.They make for great table fare and are generally caught also spring summer and fall.
COBIA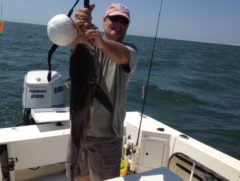 Sight fishing and live bait with chum are fished in the Atlantic Ocean and Oregon Inlet these fish are tops on the list as the first Big Fish to catch in the spring. With big schools of them showing up around May and June and remain throughout the summer. 30lbs to as much as 60lbs are not uncommon.
They are caught all year and grow up to 50lbs. Large schools are present in the Albemarle Sound, and Roanoke River Basin in the fall winter and spring. This area is also known as the ROCK FISH Capital of the World.
All Bait, License and Tackle Provided
CALL FOR DETAILS
252 207 8864